When a client came to me and asked if I could match the greene & greene style coffee table I had made for them with a large sofa sectional my first reaction was "that sounds very interesting but I am not sure how would I do it".  All the sectionals I had ever seen had their  frames hidden under a complete fabric or leather outer covering.   I knew wood frame sofas with upholstery cushions could be very comfortable but this one would need to a continuous unit 10 feet along one wall and then turn the corner with an 11 foot run on the joining wall.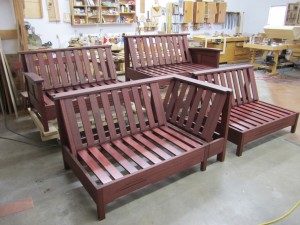 After some serious design work and a full scale prototype chair, I began the work.   I was able to build the entire piece in sections that will be joined together on site with knockdown fasteners.  Here are some shots in the shop and a few in my client's home with everything was put together in place with the cushions.
Here is the finished product in the home.